Hosting a party this holiday season? Here are a few ideas to make it a fun and memorable event not only for your guests, but for you too!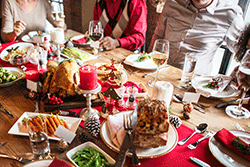 At the Top of the List: Make Lists!
It's never too early to start getting organized, and that means making lists so you don't forget a thing.
A written cooking and party prep schedule that includes cleaning, shopping, food prep —even time to set the table and create a playlist— can help the countdown to your party, and your stress level, stay on track.
Engage the Senses
Taste. You want to provide a variety of foods for your event, so why not consider a potluck for your next get-together? Don't stress about providing every course, when friends and family would most likely be happy to contribute a salad, dessert, side dish or appetizer. When someone says, "May I bring something?" change your answer to "yes!"


Hearing. Create a music playlist to run throughout your event. Music can set the tone for any party; keep the volume at a reasonable level so people can comfortably maintain conversations.


Sight. Adjust electric lighting to ensure it's neither glaring nor too dark, then set up candles strategically to complement the mood —just be sure they're positioned safely where they can't be knocked over or where they might ignite nearby flammables.


Smell. Choose a scented candle for the bathroom, but scent-free candles for the dining table and other areas featuring food.

Bathroom Basics

Clear your medicine cabinet of personal items and medications.


Set out soap and clean hand towels, or provide disposable hand towels.


Stock extra rolls of toilet paper within reach.


In addition to a scented candle, make available a can of air freshener.


Consider placing a small "emergency stain remover" basket in the bathroom, with club soda, paper towels and red wine stain remover.

Kitchens & Cocktails
The kitchen tends to be where everybody congregates, and subsequently gets under your heels! Either take advantage of the extra pairs of hands to expedite your food prep, or help nudge them out of your way by placing groupings of appetizers outside the kitchen, and also setting up a DIY cocktail bar or beverage cart away from your main work area. Consider the following for your cocktail station:


Along with bottles of liquor, soda, various mixes, and garnishes like olives, lemons and limes, make sure you have plenty of ice available in an insulated bucket. Also consider keeping drinks cold without watering them down by replacing ice cubes with frozen grapes, berries, lemon or lime wedges. And don't forget to include cocktail napkins, measuring glasses, stir sticks and a martini shaker on your cocktail station.


Consider printing out drink recipes on cards for a fun way for people to mix and shake. Don't forget to include non-alcoholic cocktain options too!


Help guests keep track of their glasses (and cut down on the dish washing) by creating a system to identify to whom each glass belongs. A casual event using disposable plastic glasses allows you to mark guests' names right on the glasses with a permanent marker or stickers, while glass markers, wine glass charms or beer bands allow for easy idenification of reusable glasses.


Keep people hydrated easily and conveniently by placing buckets containing bottled water on ice throughout your entertainment area.

Remember that a relaxed host/hostess makes for a more relaxed, festive atmosphere. Once the party starts, focus on your number one priority —to enjoy your company and make wonderful memories!